Fare collection to resume on Codiac Transpo buses
Fare collection will resume on August 24 with no changes to the price of fares;

Passengers will enter the front doors, follow directional arrows, and exit via the back doors (with the exception of those that require the front door for mobility needs);

We are not accepting 10-ride and 20-ride punch passes to reduce contact on the bus. In lieu of these, we are now selling 10-ride and 20-ride pass booklets;

For those passengers that have old 10-ride and 20-ride punch passes, these will be exchanged in the fall and passengers are asked to hold on to them until then;

Tickets will be available at retailers once again in the coming days;

Monthly passes for the month of March will be valid for the month of August;

Those that purchased April monthly passes must contact Codiac Transpo to be exchanged;

To reduce contact between operators and passengers, transfer tickets are available above the hand sanitizer upon entering the bus. Passengers are asked to use the honour system and only take transfer tickets if they require them;

Group passes are not currently available for sale;

Regular fare exemptions will continue which include free service for seniors (65 and older) on Wednesdays, and those under 18 years old in Dieppe who register;
What do I need to know before getting on the bus?
Your trip with Codiac Transpo will be much different than normal. We appreciate your patience and understanding during these uncertain times.
Masks are required

–

Masks are required at all times onboard our buses.

Bring hand sanitizer

–

Passengers are encouraged to bring hand sanitizer for personal use while in transit. Hand sanitizer is also available upon boarding the bus.

Getting on and off the bus- We continue to board and disembark the bus using the back door. As of August 24, p

assengers will enter the front doors, follow directional arrows, and exit via the back doors (with the exception of those that require the front door for mobility needs);

Fare Collection- Due to rear-door boarding, we are not collecting fares at this time. Fare collection resumes on Monday, August 24.
Schedules and Routes- We continue to operate on a service similar to what was normally offered on Sundays. Buses run from 6:00 a.m. to 11:00 a.m. and from 3:00 p.m. to 7:30 p.m.. Sunday service remains cancelled. For updates routes and schedules, please consult our schedules page. Significant schedule changes are communicated in advance of being updated online, however, third-party schedule providers (apps, etc.) are not accurate due to the on-going changes.
Passenger Limits-

As of June 29, passenger limits were increased to 50%. For this measure to continue, passengers must comply with the mask requirement.
Updated Schedules and Routes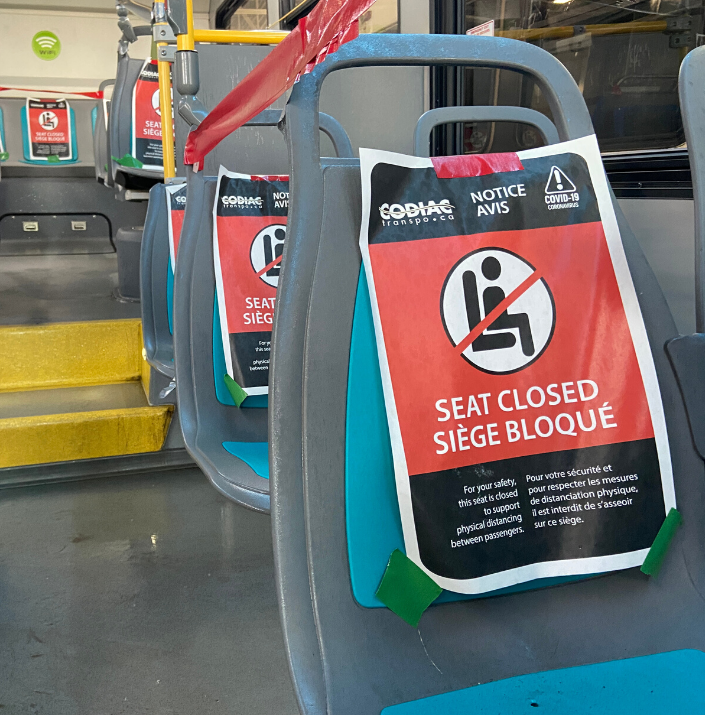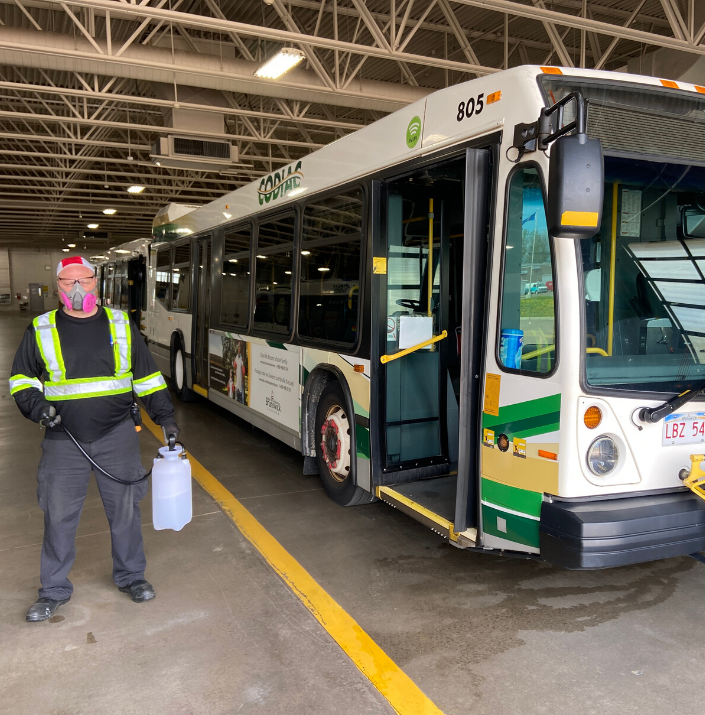 Let's all do our part
We all have a role to play in ensuring that our transit system can continue to get us to where we need to go.
Wear a mask-

As of June 29, masks are required at all times on our buses.

Practice physical distancing- While on the bus, waiting for the bus, and getting on and off, make sure that you are practicing physical distancing. Bus stops and shelters are not sanitized, so be cautious when touching high-touch surfaces.
Be patient- We are very lucky to have such an incredible team at Codiac Transpo. They are essential workers who have never stopped adapting to get you to where you need to go. In light of this, we ask that you remain patient and recognize that the changes that have been implemented have been challenging for us as a transit system, too.
What is the new requirement for masks?

As of June 29, wearing a mask is required for all passengers onboard our buses. This allows us to increase seating capacity. This is being implemented in Moncton, Fredericton, and Saint John. For the increased capacity measure to continue, masks must be worn. The use of masks will be monitored in all three cities to ensure compliance. We are confident that passengers will do their part to keep transit running.
How do I know if my bus is impacted by operational changes due to COVID-19?

We encourage all customers to refer to the schedules and routes page before taking the bus. At this time due to the reduced operational hours, third-party trackers are not accurate.
How has Codiac ensureed that the buses are safe for me?

Codiac Transpo has taken numerous steps to ensure that it is safe for you to take the bus. This includes increased sanitation, reduced passenger limits, measures on the bus such as fare collection and modified seating plans, and modified hours to ensure we have the resources to sustain operations should employees become ill and/or exposed to COVID-19. As of June 29, we have increased capacity to be up to 50%. Your safety remains our primary concern. As such, if passengers do not comply with the requirement to wear masks, we will revert to the maximum capacity of six passengers per bus.
Is there a limit to passengers on the bus?

Yes. As of June 29, the capacity increased to 50% capacity. This means that, on Codiac Transpo buses, up to 17-20 passengers will be permitted at once. This measure will stay in place if and only if passengers comply with the mask requirement.
What if I can not wear a mask?

We will continue to follow the Department of Public Health's recommendation on this. Exceptions to wearing masks in public spaces such as transit buses are permitted for health-related reasons (asthma, heart or lung diseases, claustrophobia, etc.).
How has COVID-19 impacted Codiac Transpo?

COVID-19 has required countless changes to the operations at Codiac Transpo. Due to passenger restrictions on buses, ridership dropped approximately 85% to 90% by the end of March. At the end of April 2020, Codiac Transpo saw some savings (diesel, maintenance, etc.) as the service was not operating at full capacity. However, with the loss of $230,000 in revenues per month, the Codiac Transpo Governance Committee has been advised that a projected additional loss of $750,000 by year end. This is due to revenue losses and additional operating costs including cleaning supplies and personal protective equipment.
Significant fleet sanitization requirements have been implemented considering the ongoing pandemic. Four bus operators have voluntarily transferred to our regular Servicepersons crew to help increased daily bus sanitization. Offering the weekend-style service ensures that each bus is sanitized at the start of a new shift. All buses are sanitized daily. The exterior of each bus is washed upon entering the building. Then, Codiac staff, wearing the appropriate PPE, spray the interior of the buses using a Health Canada approved disinfectant for COVID-19. This includes all high touch hard surfaces. The driver's area is cleaned by-hand to ensure that high-touch areas are well sanitized.
What are the requirements for employees of Codiac Transpo?

Codiac Transpo is proud of the collaboration that has taken place in partnership with the Amalgamated Transit Union (ATU) Local 1290, the union representing Codiac Transpo employees, in the decision-making process throughout the pandemic. This collaboration has ensured the safety of both passengers and Codiac Transpo employees. Bus operators and transit employees will be provided non-medical masks by their employer. The employer recommends bus operators wear masks when physical distancing is not possible. Operators arer also given sanitizing wipes and hand sanitizer for their seating area while driving.