Snow clearing at transit stops
Bus stops with shelters are all cleared of snow within 48 hours after the end of snow accumulation. Bus stops without shelters are only cleared of snow in high traffic areas or to alleviate safety concerns. When bus stops are not clear of snow, the bus will stop and pick up the waiting public in the nearest cleared driveway
Winter Storm Delays
While our buses can operate in storms, including heavy snow and freezing rain, we encourage passengers to take an earlier trip during winter weather events. This is to increase the likelihood of arriving on time in light of potential delays in service due to weather conditions.
Winter storm cancellations
Our drivers are trained to drive in winter conditions and provide a safe alternative for winter travel to our customers. We remain running as long as it is safely possible for both our drivers and customers to ensure those who have to travel have a safer alternative during severe weather.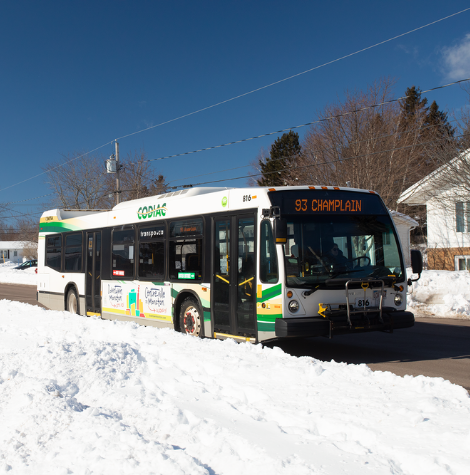 Closures due to winter weather
In the event of a closure due to winter weather, a two-hour advance notice is provided before the last route to ensure that all passengers have an opportunity to get home. When this occurs, notices are provided on the following channels:
Codiactranspo.ca Alert

Codiac Transpo App Alert

Codiac Transpo Facebook Page

A notice sent to media
Codiac Transpo is in no way responsible for the decisions of private businesses when it comes to closures. Employees should take concerns to their employers in this matter.